For 1-ton and larger dump body municipal trucks
Hot Patch Heater — EVO Models
After more than 20 years of designing, refining and building full-size Hot Patch Heaters, Five D launched into a significant redesign of our full-size Hot Patch heaters.
We are pleased to bring our new EVO models to the market. EVO models have heated sidewalls, larger heated bed floor, improved maintenance and service access and higher temperatures than prior models.
All EVO models combine a 120V plug-in preheater with a diesel-fired heater for heating patch mix while driving between repair locations. The 120V pre-heater ensures that patch mix is warm in the morning allowing patching to start much earlier in the workday.
All Hot Patch Heaters are designed so they do not overheat cold patch material. Cold patch material that is overheated will have the binding agents cooked out of the mix and the resulting pothole repair will be very short-lived. Hot Patch Heater EVO dramatically improves safety for workers, provides longer-lasting pothole repairs and substantially lowers cost.
Most of the full-size EVO models are sold with the patented rear shoveling platform that greatly improves work ergonomics when shoveling.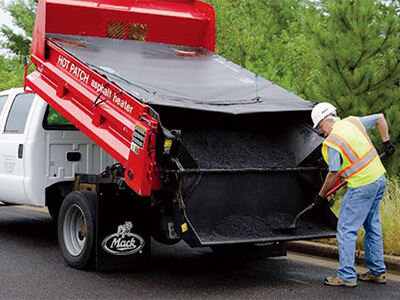 EVO-5.0
Full-size Hot Patch base model for 1-Ton and larger Dump Body Trucks as well as tandem axle dump trailers
120V Pre-heater and Diesel-fired on-board heater
Perfect for warming cold patch mix when typically only one load of mix is used per day in mild climates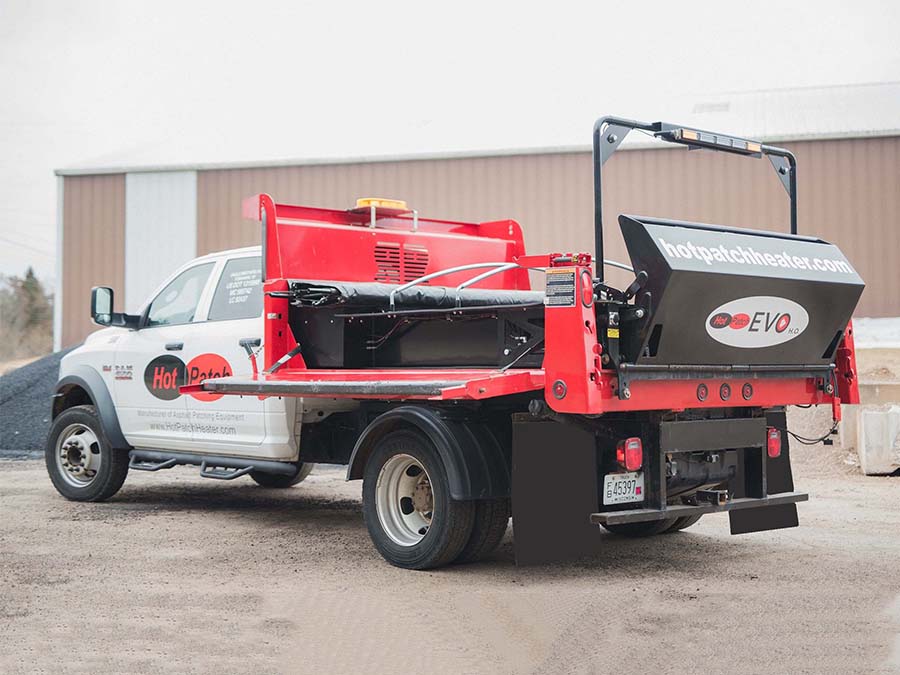 EVO-9.1 High Output
All the features of the EVO-5.0 base model with a higher BTU diesel-fired heater
Faster recovery time for heating more than one load of patch mix per day and/or for use in colder temperatures
Best Hot Patch option to prolong pliability of hot mix asphalt during the workday
---
A Hot Patch Heaters unit's size and convenience mean it can be quickly mobilized with a one or two-person crew at a much lower cost than the larger crews typically required for larger equipment. When using heated cold patch material, Hot Patch Heaters allow for longer-lasting repairs and hence lower annual cost to readdress failed patches.
Unlike dedicated patching trailers or slide in hot boxes, Hot Patch EVO units allow the truck to retain nearly all of it's original versatility. Mulch, yard debris, gravel, etc can be hauled in the Hot Patch heater without removing the unit.
---